GAP WaterGuard All-Purpose
GAP WaterGuard All-Purpose Synthetic Roofing Underlayment is a polypropylene, two-side coated woven fabric containing a patented slip resistant surface (U.S. Patent # 7745353) and is used as a secondary roofing protection, mechanically attached to the roof sheathing under the primary roofing material.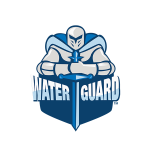 Product Use
Polypropylene woven scrim (UV stabilized), 1.2 mil/1.0 mil average coating weight (beige top/grey bottom), total weight 3.6 oz./yd2 (122 g/m2) +/- 5%, and an overall thickness of 8 mil (ASTM D1777). Rolls have a 2" core, 48" (width) x 250' (length) and weigh approximately 25 lb. per roll.
Material Performance
Mullen Burst (ASTM D3786)
Slip Resistance (Tribometer)
Grab Tensile (ASTM D5034)
MD 140 lb. (620 N) / CD 125 lb. (555 N)
Strip Tensile (ASTM D5035) – N/5cm
MD 90 lb. (800 N) / CD 80 lb. (701 N)
Tensile Elongation (ASTM D5035)
Tongue Tear (ASTM D2261)
MD 35 lb. (155 N) / CD 35 lb. (155 N)
Trapezoidal Tear (ASTM 4533)
MD 40 lb. (177 N) / CD 30 lb. (133 N)
Moisture Vapor Transmission (ASTM E96)
0.04 perms (0.30 g/day-m2)
Pliability (ASTM D146)
Water Ponding (CAN/CSA A220.1)
Low Temperature Flexibility (ASTM D1970)
Pass (no cracking, 5ᴼ F / -15ᴼ C)
Puncture (T 803)
UV Weathering
Class A Fire Rating (ASTM E108)
Florida Building Code Approved
ICC-ES Acceptance for Roof Underlayment (AC 188)
Hail Resistance Rating (UL 2218)
Impact Resistance (ASTM D1709)
Roofing Underlayments (ASTM D226)
Government Specifications
Florida Building Code Approved
ICC-ES Acceptance for Roof Underlayment (AC 188)
Documents
Download Printable Documents
Manufacturing Locations